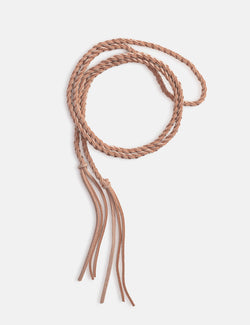 Frank & Eileen
Celtic Rope Belt | Blush
Our unique, hand-braided Celtic Rope Belt is beyond versatile. Made with our sustainably sourced, drum-dyed Italian Vesuvio Suede, this piece can be tied into a Celtic knot around your waist or even looped into a bow. Our timeless one-size-fits-all piece is an homage to Irish heritage and Italian craft—wear it your way!
SIZING:
- One size fits all
- Longest fray to longest fray is 70.75"
- Knot to knot is 58.25"