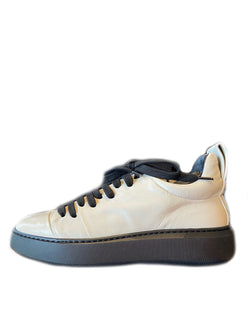 Debbie Leather Tracker | Baron Osso
Casual sneaker soft leather, extralight sole. Height sole 40 mm - platform 15 mm. 
Halmanera—essential, minimalistic, progressive shoes passionately crafted in the Marche region by Italian Artisans. The brand is a family story founded in 1979 driven by the ambition to develop and create something different; a designer shoe that convey not only a careful attention to details or the high-quality of raw materials; a designer shoe that transmit the evidence of a distinctive identity.