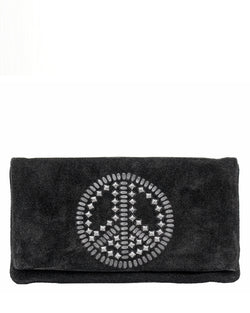 Calleen Cordero
Sula Studded Peace Clutch | Black Suede
Stand out with the Sula Peace Clutch, a perfect size to wear day or night out.
This palm clutch is made in our softest leathers, adorned with our signature artwork in hand-studded solid brass and nickel studs, fully suede lined, and has a hand strap on the back, to do dancing or to socialize at the party or just hold all the essentials in your day to day.

Dimensions: 7.5" w x 4.5" h.

Handmade. Quantities Limited.