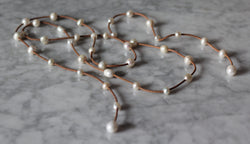 Pearl Leather Lariat | Tan
All Julie Miles jewelry is made with real pearls farmed in Bali. Everything is either real gold, Sterling Silver or Swarovski crystals. Her pieces are timeless, items you will cherish forever. 
This is a Well Heeled best seller. It is so versatile you can pair it with almost any outfit.